It was action packed from the opening bell last night. The fans at the UIC Pavilion in Chicago definitely got their money's worth. Going into last night's card, most expected to see Glen Johnson regain some momentum and try to kick start another title run. While Jose Luis Castillo was supposed to look faded, and be a stepping stone for Ivan Popoca to get back on track. Instead in Castillo, we had a chance to witness an old timer turn the clock back and look reminiscent of his old self. With Johnson we got to see a game, still hard punching future hall of famer that just doesn't have what it takes to compete at a high level anymore.
In the fight of the night Jose Luis Castillo was pinned against Ivan Popoca. From the start of the 1st round it looked as if Popoca was going to attempt to control things by working behind his jab and dropping occasional body shots. But with about 1 min 15 seconds left in the round things changed. A short left hand landed by Castillo hurt Popoca and made him retreat to the ropes where Castillo went to work, and put quite a beating on him until the bell sounded. The 2nd round started off looking the same as the end of the first, but this time, the same short left that landed last round put Popoca to the canvas early in this stanza.
At this point it looked as if it was going to be over quick and Castillo would cruise to an early KO. But an adjustment on the fly kept Popoca alive for the time being. He switched to a southpaw stance and for the most part was able to neutralize the left hand that landed at will over the 1st round and a half. The next 3 rounds were very competitive and fought in the pocket. On my card Popoca pulled all three; the 3rd, 4th and 5th by staying way more active and landing solid shots, nothing that hurt Castillo put still clean shots that scored points. A clash of heads in the 3rd opened a pretty nice gash over Popoca's left eye.
The 6th round it seemed as if Castillo either broke or severely injured his left hand on a hook to the head. He pretty much stopped using the hand in that round and completely stopped using it in the 7th and 8th. Taking us back to the 6th round, it was another round for Castillo. He just landed heavy punches, wasn't as active as Popoca but every punch had an exclamation point on it. With 15 seconds left, the ref called for time and the Dr. had to take a look at both of Popoca's eyes because now there was a cut on his right eye too. That cut was opened in the 5th but by this point wide open. Between both cuts his face was covered in blood. The Dr said "He's a bloody mess, but I think he's fine to continue."
Due to the lack of activity and none use of his left i scored the 7th for Popoca last night. But looking back at it, I gave it to Castillo. He threw a decent amount of rights but was protecting his left and Popoca followed him around the ring, not landing anything significant but still landing a few and staying busy. But the harder, cleaner punching by Jose Luis gives him the round. The 8th, and what ended up being the final round was a Castillo round. Still not using his left he managed to land right after right. I think the blood on Popoca's face impeded vision because he didn't see anything coming.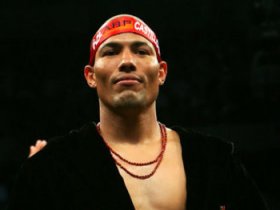 Between rounds referee Pete Podgorski went into Popoca's corner and stopped it. He told the corner that you have to have a chance. With seemingly no punching power to hurt Castillo it was a lost cause. Castillo got the 8th round TKO. It's the second straight fight Popoca lost by KO, and his career hit a serious wall now.
In the main event, Glen Johnson duked it out with Andzrej Fonfara. To start the fight Johnson pulled out the first 2 rounds. While Fonfara probably threw more in the 1st, Johnson landed some thudding jabs and kept the jab in his face for most of the round. Fonfara's game plan was to keep distance work behind the jab and stay clear of any bombs Johnson had for him. In the 2nd he strayed away from his game plan. Johnson was ripping off the same 2 punch combo Castillo used in the early rounds of his fight, left to the body, left to the head. Fonfara made both of the first 2 competitive but didn't land enough hard punches to win them.
Rounds 3 and 4 both went to Fonfara. He kept his distance behind the jab and whenever it got too close, threw a nice combo and backed out; becoming smarter and sticking more to the plan. Johnson kept the fight closer in the 5th. He didn't let Fonfara get too far away where he can control the action. He kept pressing and continued to land the heavier punches.
Entering round 6 I had Johnson up 3 rounds to 2 58-57. Fonfara was able to even it up in the 6th by using what God gave him, his length. He was staying busier a
nd showing good ring generalship by not letting Johnson close the gap. The 7th was the last round that Johnson won on my card. To be honest besides flashes, it was the only time he was competitive the rest of the fight. Not that he was getting destroyed but he didn't look as if he had the stamina to keep up with the younger, fresher Fonfara. It was the 1st time Fonfara has been past the 6th and he handled himself well. He didn't stray from the game plan and when it did get close enough to where Johnson can land his shots and do damage, Fonfara would beat Johnson to the punch land a few and get out of there. The 8th 9th and 10th all went to "The Polish Prince" Fonfara.
It was a hell of an effort from Johnson but the age kicked in and he didn't have enough in the tank. I scored it 96-94 in favor of Fonfara. The Judges at ringside had it 99-91 (I don't know what fight he was watching) and the other two both had it 97-93 all in favor of Fonfara. He looked good and though he might not be a potential major title holder in the future, he is definitely going to compete in the light heavyweight division.
I have to admit my pre-fight predictions were flipped. I had Johnson winning on the cards with a possible KO and Castillo losing on the cards. They were both entertaining fights and anybody who was at the UIC Pavilion or home on their couch has to say ESPN got it right last night. Overall, it was a good night of boxing. After the fight, Glen Johnson announced his retirement. Enjoy it my man, you deserve it.