After four years of false hope, people are tired of waiting for the mega fight between Floyd Mayweather Jr. and Manny Pacquiao to finally happen. Just when we think that we are one step closer to the fight happening, all of sudden the rug gets pulled out from underneath us and poof are hopes are crushed. For this very reason there are some who have lost interest in the proposed bout and don't care if it happens at all at this point but these people are in the minority. There are many other casual and hard core fans that just can't let go and frankly I am one of the optimistic ones myself.
Recently after his win over Marcos Maidana, Mayweather was asked about a possible fight with Pacquiao and he responded,"We don't know what the future holds, as of right now. Anything is possible."  He went on to say, "Manny needs to focus on the guy that's in front of him. Once he gets past that task we'll see what the future holds." This response seemed like a step in the right direction but days later Mayweather came back with yet another one of his demands. "The only way he's getting the fight with me is if he signs with Mayweather Promotions. He's got to give me fights with Mayweather Promotions. If he doesn't give me any fights under Mayweather Promotions, then he's not getting the fight. That's how it is working now, because the ball is in my court. The ball has been in my court. I have been the A side," Mayweather explained.
In an interview that we did with Bob Arum recently, he explained to us that he met with HBO and Showtime and said that both networks are on board with the matchup, so that is one roadblock that has been hurdled. Arum also said that Pacquiao is on board as well and that now the ball is in Mayweather's court. Mayweather has denied any knowledge of the meeting between the two networks
Earlier in the week Pacquiao and Mayweather engaged in a war of words on Twitter over a possible future fight.
Pacquiao took shots at Mayweather's recent All Access controversy regarding marijuana usage in one of the scenes. He tweeted out: @FloydMayweather's testimony to the commission on All Access' authenticity tells me everything I need to know about his desire to fight me.
Mayweather responded on Instagram with this: My new boxing DVD is coming soon and is called "3 Ways to Sleep." Back, Face and Butt and I'm Falling & I Can't Get Up…..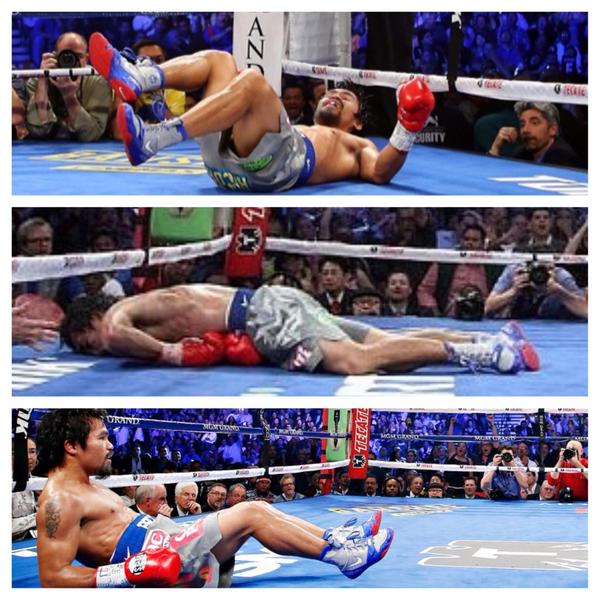 He also tweeted out: Miss Pac Man is broke and desperate for a pay day. Your Pay-Per-View numbers are a joke.
Is this verbal battle for real or is it all just hype for a fight next year in May. Let us hope it is the latter.