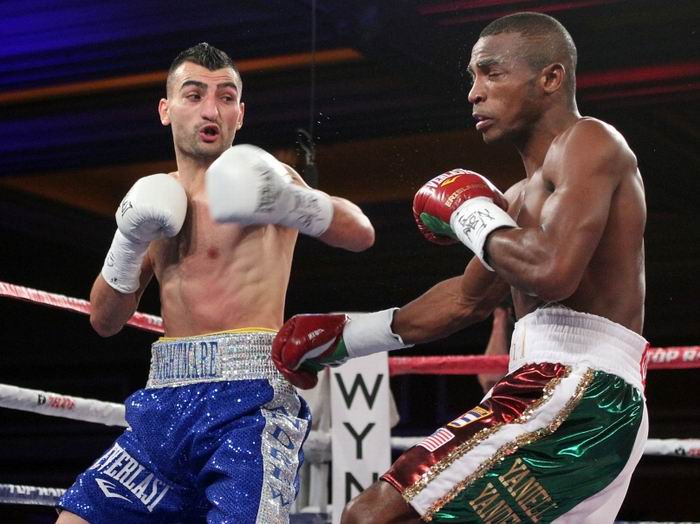 Lara started the fight noticeably more hungry for the WBC title shot against Canelo Alvarez. The first round I gave to Lara, but Vanes picked up the pace and won round two. The more Vanes landed the more Lara started to run. Lara put a headlock on Vanes and noticeable put pressure on it. It was a little dirty, but it's part of the game.
Round four was another dirty shot this time in the form of a low blow from Lara, but it was unintentional. Lara continued to be timid through round six or at least compared to his previous uptempo fights. Neither guy fully pulling away with the fight, but Vanes got off first all night.
Martirosyan suffered a cut over his left eye in the seventh round. He pawed at the cut from all angles and it was definitely bothering him. Although the fight wasn't very entertaining, I hate to see it end with a clash of heads, but that's exactly what happened. Neither fighter was really at fault for the clash of heads they were both leaning in during the exchange.
Not surprisingly it ended in a draw because that is exactly how I had it as well. Vanes accused Lara of running and fighting dirty, which is not far from the truth. So the WBC junior middleweight champion Canelo Alvarez still has no mandatory challenger. To be honest, I'm not certain either of them would make much of a challenge at this point.
Do you think Lara was fighting dirty? Would either of them be able to beat Canelo? Please leave your thoughts in the comments section below and don't forget to follow us on twitter @ThaBoxingVoice and me @lucasbiggers213. Thanks for reading.