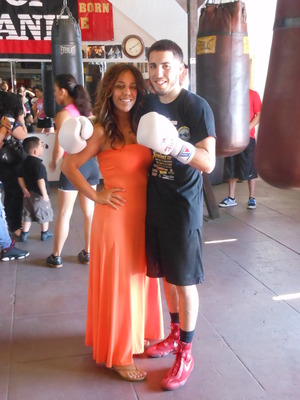 Michelle Rosado is one of the more fascinating up and comers in the boxing world. She isn't a fighter, but she might as well try her hand at it because she does almost everything else in the business from public relations to promoting, Michelle has her hand in many aspects of the game.
Michelle is paving a path for herself in what many would consider a man's world. The strides Michelle has made have been influenced by her mentor Jackie Kallen, a person who she describes as a friend and a mentor in different areas in boxing.
At this moment Michelle is preparing to promote her 5th ever boxing event, which takes place Friday January 18th at the Arizona Event Center in Mesa, Arizona and is headlined by one of her fighters, undefeated junior featherweight Emilio Garcia. However, she is also preparing for her biggest fighter Gabriel Rosado (no relation) as he prepares to step in the ring with middleweight monster Gennady Golovkin this Saturday on an HBO card being televised live from MSG in New York.
As far as her actual job description, Michelle does some PR, marketing for her fighter's brands, sponsorships, and promoting her own events. All that and she still maintains another more conventional full time job. Simply put, Gabe wouldn't be Gabe without Michelle and that's what she does. Not in terms of the fighter he is because Gabe is a workhorse, but more in terms of the brand.
Gabe is a free agent and he has done things the hard way without the luxury of a major promotion behind him, which is why so many fight fans identify with him, but people like Michelle have brought him to another level and stratosphere that extends beyond Gabe's comfort zone of Philadelphia. Michelle has made him more accessible to a wider range of fans.
So before the biggest fight of her biggest fighter's career, she will put on a show for all the fight fans in Mesa, Arizona as well as our deserving troops via web stream. The date is extra special for Michelle because it coincides with her Father's birthday and she is dedicating the card to her Dad, who passed away in 1997.
"I'm promoting a card this Friday January 18th and it is being streamed on GFL.tv and we're actually going to show it free to our troops in Iraq and Afghanistan. Right now we do have 7 professional fights on the card that are set and made. Right now it's just putting the finishing touches on the venue and the commission stuff and the insurance, so far everybody is healthy and ready to fight," Michelle told Thaboxingvoice.com when she was a guest on our radio show last Sunday.
Michelle spoke about the difficulties of being a woman in the boxing business, but she has handled it well and demonstrated a particular kind of fortitude that has correlated with her success.
"At first it was a little difficult, but little by little I think they've embraced me and they know I'm about my business. In the beginning I tried to be friends with everybody and in this business you can't possibly be friends with everybody, it can't be personal and business.
"I had to lay down my own boundaries and now I let things roll off my shoulder. There are times when people try to get slick with me because I'm a woman and I have to let them know I don't play like that. Once I set them straight we're good."
Once her event concludes, Michelle will be jumping on the Red Eye at 12:55AM to land in New York at 10AM in hopes of getting some sleep at her hotel before making her way to the Garden. This fight is significant to her for plenty of reasons, but at the core of things Michelle and Gabe are friends and she wants to see him succeed on that alone. Although it would be inaccurate to say this fight isn't important for Michelle's career as well.
"It's a huge fight and Gabe, for me, is number one. Right now, Gabe has this huge fight and I don't think I'll ever put anyone before him. I have other fighters reaching out to me, they've seen the things me and Gabe have been doing, big names too in the business, but I'm just being patient. I don't want to grow too fast and then fail and fall on my face.
"It's got to make sense and I got to give them all the right amount of time and do good work for them. I still work a full time job and in my spare time I'm doing all this other stuff like his marketing, sponsorship development, and financial acquisitions. For me to take on more fighters, I'd have to really be passionate about that fighter," Michelle said.
It's important for Michelle to have a bond with her fighters because they're not just clients to her, and she says that being female influences the compassion she has for her fighters. However, she insists that a strict set of guidelines must exist in order to maintain working business relationships.
"I think women are naturally more emotional and nurturing, but again you have to set those boundaries and know when it's time to have a good time and be cool and then when it's time to get to business. We have a good understanding of when it's time to work and when it's time to kick back. For me, I take [my fighters] personally; I care for them a little more than the average manager or publicists."
Michelle said she is planning on doing around 3-4 events this year starting with her card Friday. While Michelle said that she has been treated fairly for the most part, she did describe in the interview some of the more trying experiences she's encountered, mostly from the promoter side of things.
It baffles me to know that there are still some misogynistic men out there threatened by women. I can't imagine what these men have to gain from clutching to antiquated notions and trying to maintain boxing as some "boy's club" made for the most alpha of males.
I've heard people say that if God were a woman we wouldn't have wars, but maybe the opposite is true in boxing and perhaps if more women were involved we would have pure wars inside the ring, detached from all the politically charged corruption. Could it be that the root of all the greed and egotistical testosterone that is spoiling boxing comes from those same misogynistic thinkers? Maybe man's role in boxing should be limited to the ring, and perhaps a woman's touch could circumvent the greedy nature that is currently strangling boxing. Wishful thinking.
The greatest and perhaps most admirable aspect of Michelle Rosado is at first glance you see an eloquent woman with provocative and mysterious physical features, but after 5 minutes of speaking with her all of that physical appeal goes out the window as you start to understand that she is one of the sharpest and hardest working new minds in the sport of boxing, regardless of sex. You find that her beauty takes a backseat to her professionalism, her candid nature, and her undeniable work ethic. Aren't these the qualities you want in a person put in the position to help the sport from within?
Saturday is a big night for Team Rosado, but winning isn't a prerequisite for the kind of success this team has already earned.
For Audio of this Interview Click Here:  http://mixlr.com/thaboxingvoice/showreel/thaboxingvoice-michelle-rosado-plus-fight-week-debate/