The British heavyweight scene is currently booming with talent. The likes of David Price, David Haye, Dereck Chisora and Tyson Fury are all good fighters and the talented prospect of amateur boxer Anthony Joshua exciting many. The heavyweight division is dominated by the Klitschko brothers, who are very good fighters but lack excitement and often fight people who aren't worthy of fighting for a world title. This demeans the titles and their legacy as great champions. Yes in general the division is poor but there are better fighters out there than those that they fight.
 Anyway back to British heavyweights. Starting off with David Price:
David Price is a very modest man who quietly goes about his business. At 6ft 8 he is a behemoth of a man with a massive right hand. He is currently training for a rematch against the veteran fighter Tony 'The Tiger' Thompson who knocked Price down in the 2nd round of their fight causing a perforated ear-drum. This perforation to the ear-drum caused Price to be unable to regain his balance and the referee to step-in and end the fight.
 This was a massive shock to me and many in the boxing community. Price has been talked up as a future heavyweight world champion and I agree. I see this loss as a set-back in his career and one which will actually have a positive effect on his career. He is now working with former undisputed heavyweight world champion Lennox Lewis and training in new, more effective ways. Lewis had such valuable experience that just can't be bought and will help Price extensively. I personally see Price as the best current British heavyweight barring David Haye and is someone who can in my opinion dominate the division for a good few years.
David 'The Hayemaker' Haye:
Haye is a former undisputed cruiserweight and WBA heavyweight world champion with an impressive record of 26 wins, 24 kos and 2 losses. He is a speedy, slick and powerful puncher. His problem is that at 6ft 3 and having moved up from cruiserweight he is small for the weight. This means that he has to box in-and-out and has to be very clever with his tactics to negate his physical disadvantages. Despite being small for the weight Haye possesses extreme power and a ferocious haymaker. He is eccentric and has a big fan-base with his exciting style and charismatic personality. Haye is the most famous of our heavyweights and lives a celebrity lifestyle.
 He is an excellent fighter and has come back out of retirement to try and work his way into a mandatory position to fight one of the Klitschko's. It appears as though Haye is aiming to fight Vitali Klitschko the older and seemingly more faded fighter in 2014. Haye's plans have currently taken a set-back with a wrist injury ruling him out of facing Manuel Charr.
 There have been suggestions that this would pave the way to a big domestic fight with Tyson Fury later in the year. That would be a huge domestic fight with both fighter very eloquent and full of personality. I personally would see Haye winning this fight as he could expose Fury's lack of technique and punish the big man with some haymakers. As Shown previously, Fury can be knocked down by people who aren't even regarded as big punchers. Steve Cunningham is an example of this. Haye is a much more ferocious puncher and for that reason would in my opinion knock Fury out.
I personally hope that Haye can gain a shot at Vitali in 2014 as I believe that he can stand a chance of beating him and become the WBC World Heavyweight Champion. Vitali is fading and was really tested by Dereck Chisora, who took him the full 12 rounds. In comparison Haye was able to dispatch with Chisora in 5 rounds. Yes the fights are very different but Haye's speed and power can in my opinion beat a aged Vitali Klitschko.
 Dereck Chisora: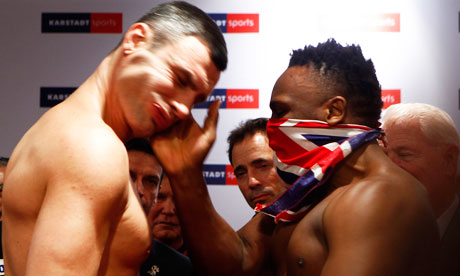 Chisora is a contoversial fighter with a real lack of discipline and a questionable character to say the least. Slapping Vitali Klitschko, spitting at Wladimir Klitschko, threatening to shoot David Haye and kissing an opponent are just a few examples of his odd behaviour. Such behaviour led many to call for him to be banned from the sport.
Chisora's has been on a losing streak of late. losing to the likes of Tyson Fury, Robert Helenius(albeit controversially), Vitali Klitschko and David Haye. Chisora's comeback fight from his ban by the British Boxing Board of Control was a complete anti-climax.  His opponent Hector Alfredo Avila came just to try and defend and it resulted in a bore of a fight. Chisora forced a late stoppage but he seemed to have no interest in the fight.
Chisora's next fight is against unbeaten American Malik 'King' Scott. This fight should be a competitive fight with Scott a technically sound fighter. Chisora will be looking to get back on track and gain a win over a good opponent. I am predicting Chisora to come forward as always and put severe pressure on Scott and force a stoppage. The issue for Chisora going forward is that he is smaller than most heavyweights at 6ft 1.5 and lacks power in his punches. He does however have a granite chin and can brush off major punishment. He is a natural heavyweight and can bully opponents. He has also shown himself to be a much improved performer pushing Vitali Klitschko for 12 rounds and putting up a good effort against Haye.
I predict a decent future for Chisora but ultimately never see him gaining a world title.
Tyson Fury:
Fury is another controversial boxer. He is very vocal on his abilities and comes across very arrogantly. He is a huge man standing at 6ft 9. He is an aggressive fighter who looks to come forward and attack. He does however appear to lack discipline in the ring and becomes ragged. He has been knocked down a couple of times in his career due to this lack of discipline and is something that I believe against the best fighters will cost him.
Tyson is a good fighter who could win a world title but in my opinion not until the Klitschko's have retired. Fury is great for the sport though as he gets people talking constantly with his hilarious interviews. He also fights on Channel 5 meaning that more fans are able to watch him fight. This makes the sport more accessible to the casual fan which is of great importance.
Fury has recently pulled out of a final eliminator to fight Wladimir Klitschko for the IBF title against Kubrat Pulev. Many are speculating that this is in order to fight David Haye later in the year. This would appear a risky choice for Fury as he is giving up a chance of being mandatory challenger to Wladimir and in my opinion will lose to Haye. If he loses to Haye than his status in the sport will drop and his chances of fighting for a world title will have to be put back.
Fury does have potential to be a successful boxer and I can realistically see him being a world champion. I also predict a massive domestic dust-up with David Price for a world title or even a unification fight in the future. Watch this space!!!!
Anthony Joshua: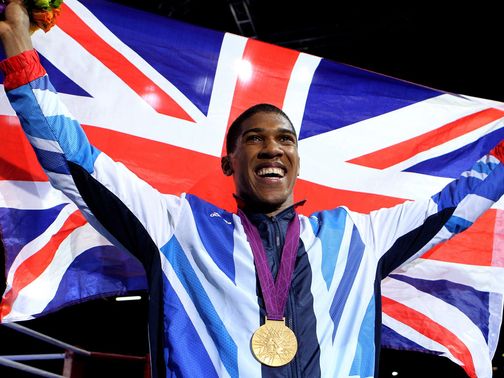 Joshua is a young man with huge potential. Having won the gold medal at super-heavyweight at last years Olympics he has risen to fame. At 6ft 6 he is a big man and has a big natural body-frame. He is a natural heavyweight and appears to be technically sound. He talks very well and appears to have great power. He is being labelled as one of the future stars of boxing.
It is very early on to be going mad about a boxer who is yet to enter the paid ranks. He has undoubted talent but predicting heavyweight titles is a dodgy business on the back of olympic gold as shown by Fraudley sorry Audley Harrison who has reversed his decision to retire which I for one am unhappy about. He has had a good career and is just destroying his reputation by continuing. Summing up on Joshua he looks like a bright prospect for the future but he needs to be given time to develop his boxing once he enters the professional game and needs to stay committed and resilient under the spotlight that he will undoubtedly be placed under as an Olympic gold medalist.
The British heavyweight division is a very strong one with some world-class fighters. The best current British heavyweight in my opinion is David Haye. I see David Price going on to take up that mantle over the next few years with competition from Fury. Over an even longer time-scale who knows we could even have Joshua as a dominant heavyweight but much has to be done between now and then. British heavyweight boxing is at a good place and seems set to continue on its rise. Everyone loves a good heavyweight so lets get behind our British fighters and back them all the way.