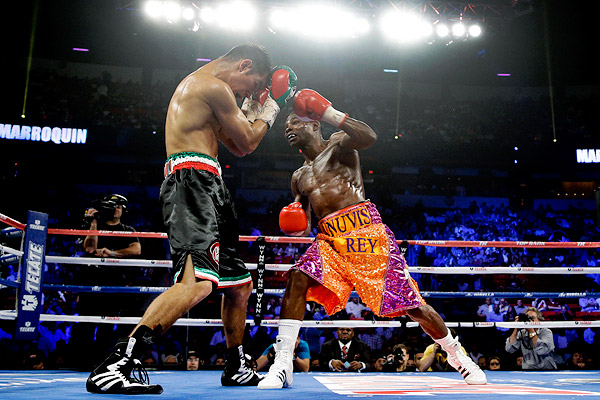 Last night — on the opening bout of the Chavez-Martinez pay-per-view — super bantamweight titlist Guillermo Rigondeaux (11-0) faced off against the untested, but tough Roberto Marroquin (22-2).
The fight played out as many expected in the early rounds. Rigondeaux seemed to play him as he has done fighters in the past, but this all changed as soon as Marroquin landed a flush hook that wobbled the champion, late in the fight. To many people's surprise Marroquin actually stunned the champion a few times throughout the fight, but his lack of "killer instinct" is what ultimately cost him the fight. After each flush punch he landed, Marroquin would back up, allowing Rigondeaux to recover. Add in the fact that he continuously circled towards the Cuban's power hand, and it was blatantly obvious that things weren't going to end well for the American fighter.
Rigondeaux constantly capitalized on his opponents more technical escapes, as he was able to land crisp combos and drop him twice in the fight. His most notable flurry came in the 11th when he tagged Marroquin with a right jab-left uppercut-right hook combination to close the round. Marroquin definitely put on a more competitive showing than many had expected, but that isn't saying much after the judges' scores were announced: 118-108, 118-108, and 118-109, all for Rigondeaux.
Although Rigondeaux was dominant, there is just no ignoring the fact that he was touched up by a fighter who many feel didn't belong in the ring with him. By the end, there was only one question that rang throughout everyone's mind. Can Rigondeaux really back up his talk and pose a legitimate threat to Nonito Donaire? At this point, all signs point to no, but who knows what can happen with a distraction free training camp.