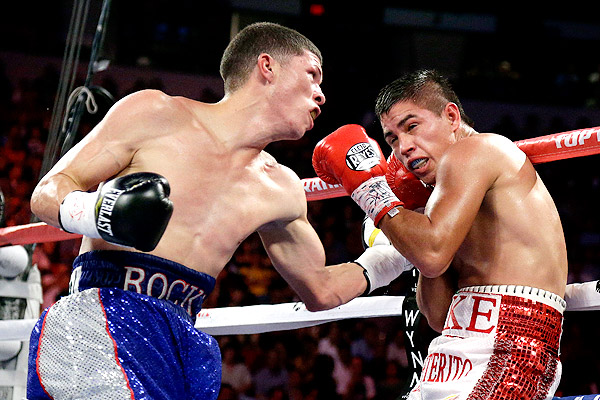 In the final under-card bout of last night's Chavez-Martinez pay-per-view, super featherweights Roman "Rocky" Martinez (27-1-1) and Miguel Beltran Jr. (27-2) put on a fight that many believe was a fight of the year candidate. Both had their moments in the fight as they brutalized each other at a relentless pace.
In the opening round, Martinez seemed to be the more aggressive fighter as he wobbled Martinez with a volley of hooks to close the first round. This quickly changed after Martinez came roaring back in the second to steal the round. From that point forward fans were treated to an all-action brawl that could have gone to either fighter by the time the scores were announced. Both fighters were wobbled multiple times, but they still managed to keep up the monstrous pace.
The only issue with fighters fighting with reckless abandonment is the fact that someone is bound to get fouled, and that is exactly what happened after referee Russel Mora caught Beltran hitting Martinez behind the head. After the warning, Beltran went on to do it again which forced Mora to deduct a point. It was this single point that ultimately changed the outcome of the fight.
The final scores were 114-113, 114-113, and 111-116 giving Martinez the split decision victory. There are many who don't agree with the decision, but with a fight that close there is already going to be talk of a rematch.